Update: Madison the dog, found during Freed to Run marathon, finds her forever home
In our December 2018 edition of the Community First Insider, we told you the story of how five Community First runners participated in the Freed to Run marathon on December 4. Perhaps the most memorable part of this story was that our Mortgage Sales Manager, Eric Krall, found a stray dog at a rest stop. The team decided that they couldn't leave her behind and took her with them on their journey! She stayed on the bus and watched the runners trek along for 26.2 miles. Eric's family fostered the dog for a short time, but were unable to reunite her with her owner. We are happy to report an update: Eric's family decided to officially adopt her! Madison Krall is pictured below with her new dog brother, Hemingway. Congratulations to Madison and the Krall family! ■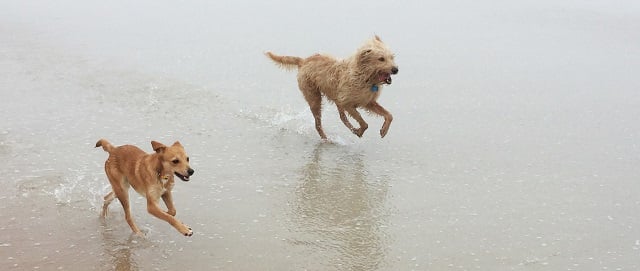 The Florida Theatre's Attendance Ranks 6th in the Nation in 2018
Pollstar, a trade publication reporting on the concert industry, released its 2018 year-end charts and ranked the historic, nonprofit Florida Theatre's attendance (during 2018) as among the Top 100 theatres worldwide! With attendance of 134,053, the Florida Theatre was #56 overall on the Top 100 Theatre Venues chart (surpassing all other Jacksonville venues) and #6 for theatres under 2,000 seats. Congratulations to the historic Florida Theatre! We are proud to be your season sponsor! ■
Greg Gause, Owner of Advantage Plumbing, tells his Business Success Story with Community First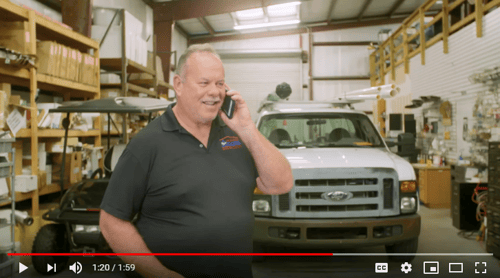 Greg Gause has been a long-time Community First member. In fact, he became a member in the 1970s when we were still known as Duval County Teachers Credit Union. Greg held his business accounts with another financial institution in the past, but when Community First opened its Commercial Lending department in 2004, he switched his accounts over to us so that he could have both his personal and business accounts under the same roof. Since then, Greg has utilized most of our business products and service offerings to help his business grow.
Watch the video testimonial above to hear Greg tell his story in his own words or read his full story on our website. ■

Teacher of the Year Celebrations
As you may know, our roots are in education. In 1935, Community First launched in a high school basement and started as the Duval County Teachers Credit Union. Since then, our name may have changed, but we continue to support education in the counties we serve. We would like to wish all of the nominees for Teacher of the Year the best of luck as they approach their upcoming naming ceremonies. Below are the dates and location for just some of the Teacher of the Year celebrations in our area. Congratulations, teachers!
St. Johns County | January 17, 2019 | World Golf Renaissance Center | St. Augustine
Nassau County | January 18, 2019 | The Ritz-Carlton | Amelia Island
Clay County | January 31, 2019 | Thrasher-Horne Center | Orange Park
Duval County | February 15, 2019 | The Hyatt Regency | Jacksonville Riverfront ■
Martin Luther King. Jr. Day
This is a friendly reminder that the credit union will be closed on Monday, January 21, 2019 in observance of Dr. Martin Luther King, Jr. Day. This includes our downtown headquarters and all of our branches. For your convenience, Online and Mobile Banking services are available 24/7! ■
The Seawalk Music Festival Returns!
Mark your calendars! The Seawalk Music Festival will return again this February! This annual music festival celebrates the local lifestyle of the beach, with lots of music, food, and fun for the entire family. Mark your calendars for February 23-24, 2019 and be on the lookout for more information in next month's edition of the Community First Insider! ■

January moveUP Friday | January 18
Learn How to Make Car Payments Go Away

You're invited to join us for a special edition of moveUP Friday! We want to help you start the new year off right. What better way than to offer you a chance to make one of your largest monthly bills disappear? Learn how to make car payments go away by refinancing an auto loan you have elsewhere. To celebrate the upcoming moveUP Friday event on January 18, we are offering special low rates during the week of January 14-18!
Learn all about our low auto loan rates, ask us how we can make your car payments disappear for 90 days, complete a moveUP module, learn how to refinance your auto loan, and enjoy refreshments and special treats on us.
or stop by any branch on January 18 to learn more.
Our staff has the tools and resources to help you get what you want from your finances so you can live a happier life! Contact us today if you'd like to set up an appointment to discuss your financial situation with a Community First representative. ■


eStatements provide convenience and security benefits, which means less worry for you
Take your online banking experience to the next level with eStatements! These PDF files contain all the same information and look just like your printed, paper statements. The only difference is they are delivered securely through Online Banking instead of through the mail.
8 Reasons to Switch to eStatements
Accessibility:

You'll always be able to find your statement when you need it.
Less clutter:

You'll have less paper around the house.
Security:

Secured by your online login credentials, your statements can only be accessed by you.
Save the Planet:

Replacing your multi-page paper statement with an electronic version saves trees.
These are just a few reasons to love eStatements. Want to sign up? Check out our complete list of 8 Reasons to Switch to eStatements by visiting our website and get started today! ■