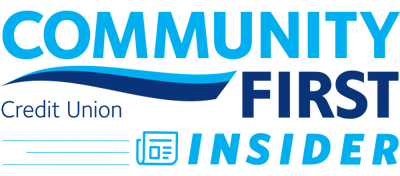 since 1935 | #LoveWhereYouBank
Volume 4 | Issue 1 | January 2021
Our Mission: Providing financial solutions for every stage of life.
State of the Credit Union
A letter from our CEO, John Hirabayashi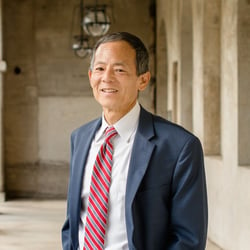 Happy New Year from the entire team at Community First Credit Union. I know we are all looking forward to turning the page and starting anew in 2021.
While I firmly believe the economic foundation has been laid for a better 2021, I often think about those individuals who've been harmed financially by COVID-19. Even with the stimulus payments and expanded unemployment benefits, recent studies have revealed that many Americans are anxious about the current state of their finances today and concerned about what the future holds if economic conditions should worsen. Even with another round of federal economic stimulus in the works, this will not be sufficient to make whole the millions of people experiencing extreme financial hardship, many of whom living in economically disadvantaged households who never fully recovered from the Great Recession.
If you find yourself struggling financially, know that you are not alone. Our team at Community First is here to partner with you to help improve your financial health and wellness. Our moveUP Financial Wellness program has helped thousands of our members just like you improve their personal finances by developing savings plans, creating effective budgets, reducing debt and taking steps to improve credit scores. No matter where you find yourself today we are committed to meeting you where you are and helping in any way that we can.
As you take stock of your financial position in the New Year, here are some practical and in many cases pain-free ways to increase your cash on hand and build your financial future.
Savings
Starting a savings plan will provide a cushion and safety net for you and your family when the unexpected happens. Our financial educators say the best savers write down their goals, plan, and get creative in their approach. Successful savers also make saving automatic – they set up automatic deposits from paychecks or income. Even small contributions like rounding up purchases to save the difference can add up over time. Super savers also investigate refinancing larger bills, starting a side hustle or even selling common unused household items that hold the potential to generate additional cash.
Also, now is a good time to plan how to invest your tax refund, bonus, or raise. If you're fortunate enough to receive one or more of these, creating a plan in advance for how you will use the funds to improve your finances greatly increases the odds of achieving your goals. Review our educational moveUP Savings modules to learn more.
Budgeting
The first month of the year is a good time to write a budget. We have tips and resources to help you create a budget and track your spending. A budget can help you get a handle on small things that make a huge impact. In today's digital age many underestimate how even small monthly digital subscriptions can add up quickly. Take a few minutes to review your checking account and identify automated deductions that hit your account monthly. Consider dropping those that no longer bring value to your lifestyle. A budget can also help you get control of impulse shopping or spending while carving out the amount you want to save each month or earmark for paying down debts. One study revealed that consumers spend over $300,000 in impulse purchases throughout their lifetimes.
Paying Down Debt
The average American household with a credit card carries more than $8,000 in credit card debt. Focusing on eliminating high interest rate debt is something you can immediately act upon. Consolidate debts at lower interest rates to make them easier to pay off. Consider making extra automatic payments to pay down debt even faster.
You can use the debt avalanche or debt snowball strategies for larger amounts of debt. These approaches are easy to implement yourself after you understand how and why they work. Debt avalanche is a way to pay down debt by paying the most to your highest interest debts. The debt snowball strategy builds momentum through the repayment of smallest debts first. Our financial wellness coaches say both of these strategies work and will give you the benefits of better cash flow and help boost your financial fitness. Review our educational moveUP Financial Foundations modules to learn more about debt management.
All of these tactics described above build upon one another and can make a dramatic impact on improving your financial position in 2021. Embrace the new beginning and resolve to strengthen your finances this year. Start with taking some of the educational modules in our moveUP Financial Wellness Program, or schedule an appointment in one of our branches for a full Financial Wellness Check.
We wish you and your families all the best in the New Year. ■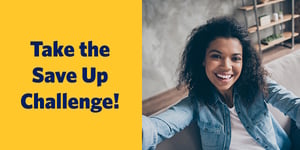 Save Up Challenge
Start the New Year off right by taking the Save Up Challenge and potentially win an extra $2,000 cash!
Now's your chance to find more ways to save and win big!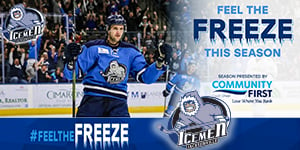 Hockey is back
As a season sponsor of the Jacksonville Icemen, we are excited to say that hockey is back in Jacksonville! 🏒 Take advantage of the exclusive discounts to all Icemen home games during this Season!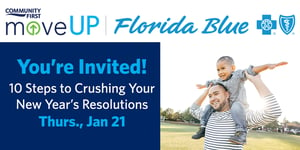 Get Financially Fit with Florida Blue
Join us on January 21 for our Get Financially Fit Virtual Event where we'll be showing you how to crush your New Year's resolutions in 10 easy steps.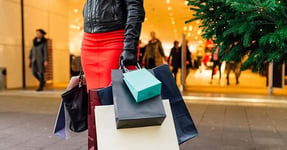 Do you have Debt Hangover?
It's easy to get caught up in the giving spirit of the holidays. Between the amazing sales that you just can't pass up and the temptation to buy the perfect gift for everyone on your list, debt can quickly start adding up. If that's you, then you might be suffering from a holiday debt hangover. Here are our tips for the holiday debt hangover cure.