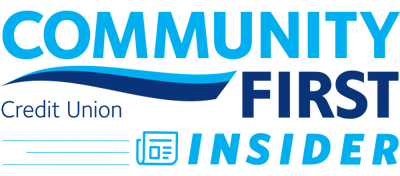 since 1935 | #justbeyourself
Volume 4 | Issue 6 | June 2021
Our Mission: Providing financial solutions for every stage of life.
State of the Credit Union
A letter from our CEO, John Hirabayashi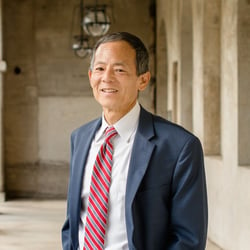 Dear Valued Member,
Lending money to help our members achieve their life goals is one of the main reasons Community First Credit Union exists. And for many of our members, buying a home — whether a starter home, upgrade, or vacation property — ranks right at the top of those goals.
Many financial institutions can say the same, but the difference here at Community First is that we care more about our members' overall financial well-being than about maximizing our mortgage loan portfolio. That's why we're stepping up our efforts to provide sound advice to prospective homebuyers trying to navigate the current housing market, which is increasingly being described as "overheated" and even "in a bubble."
We want to help our members get the house they want while avoiding being drawn into decisions they may regret in the future. Unfortunately, we've already seen some situations in which buyers have gotten involved in bidding wars that resulted in offers well above the asking price or stretched their budget to purchase a home that will likely leave them "house poor" for many years to come. Yet other buyers are getting caught up in a sense of urgency that leads to ill-advised decisions, such as waiving pre-purchase inspections and other prudent safeguards.
The Community First Mortgage Champions program can help you avoid the pitfalls of an overheated market with the advice of an experienced loan associate. By being better informed, you can take a deep breath and consider your decisions more carefully before committing to a mortgage or contract provision that may not be in your long-term best interests.
Our "mortgage champions" are experienced associates who will walk you through the complexities of the mortgage application and homebuying processes using our Homebuyer's Toolkit. They'll carefully explain the purpose and impacts of provisions such as loan-to-value and debt-to-income requirements; property appraisal; escrow for taxes and insurance; and cash required for closing costs.
Although caution is key in any type of frothy market, there are some attractive reasons to be in the home market at this time. Mortgage rates are low, and sellers looking to upgrade to a bigger property or new neighborhood are finding plenty of interested buyers willing to pay the asking price — or more. (See above.)
If you have fully weighed your decision and are ready to move forward, we highly recommend getting pre-approved for a mortgage loan. In addition to rapidly becoming a prerequisite in today's market, obtaining pre-approval helps you define your price range and adds a layer of protection against being led into overspending by the excitement of a bidding competition.
We offer a full range of mortgage products with attractive rates, low closing costs and a wide range of maturities to fit each borrower's needs, and, unlike many lenders who are struggling to keep up with demand, we have committed to a 30-day turnaround on home-purchase mortgages. In addition, we recently launched a new First Time Homebuyer Program* that we believe surpasses any other offers we've seen in our local market. The terms of the program include:
No down payment;
No loan origination fee;
No private or other mortgage insurance;
30-day closing;
Loans up to $250,000; and
Initial rate as low as 3.00%
We're also aware that an increasing number of self-employed individuals — including "gig workers" who drive for Uber or deliver meals for DoorDash, for example — may find it difficult to qualify for mortgage loans under traditional criteria. Our associates are trained to take a holistic view of the financial profile of these individuals, so we aren't excluding qualified buyers simply because they don't fit criteria that weren't developed to address their situations.
Because member service is our priority at Community First, we're committed to doing everything we can to ensure our member-owners have access to a full range of loan products at attractive rates, while providing the advice they need to make the right decisions for their long-term financial well-being. ■
Home-Buying Mistakes
When you are in the market for a new home, your goal is to end up with a home you love at a price you can afford.
Between prepping your finances and the logistics of buying a house, it's all-too easy to get swept up in an overwhelming whirlwind and end up in an unwise investment.
If you are in the market for a new home, we can help you skip the buyer's remorse by avoiding these five-common home-buying mistakes.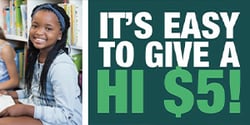 Hi $5 for Reading
Help students continue learning over the summer!
It is estimated that students can experience a two- to three-month loss of reading skills over the summer. Your donation of just $5 a month will help children keep their education gains this summer and next.
Donations to the Jacksonville Public Library's Summer Learning Program will be matched by the Community First Cares Foundation.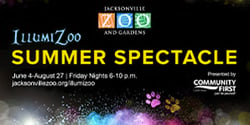 IllumiZoo
Come summer, when the days are long and hot, cool nights at the Zoo are now home to an incredible scattering of illuminations.
An amazing spatial of color, IllumiZoo Summer Spectacle promises to transcend from sleepy wildlife to a fantasy landscape of nature drenched with rich lighting.
Come visit Friday evenings between June 4-August 27.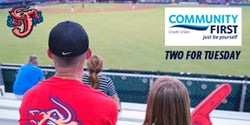 Two For Tuesdays
Ready for peanuts and Cracker Jack?
The Jumbo Shrimp are back in full swing this season. Have you taken advantage of our Two for Tuesday's deal for members?
Tickets are 2-for-1 at the box office for Community First Credit Union members using their CFCU credit or debit card.
Did we recently help save you money? Did our Mortgage Champions help you finance your dream home? Did you get a sweet new ride with one of our auto loans? We'd love to hear YOUR stories. Share your feedback and get featured on our social media pages ■
*Up to 100% financing of purchase price at or below $250,000. Maximum loan amount is $250,000. Closing costs are paid by the borrower. No Private Mortgage Insurance required. Other exclusions and restrictions apply. All mortgage loans subject to credit approval.