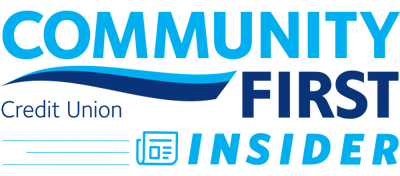 since 1935 | #justbeyourself
Volume 4 | Issue 9 | September 2021
Our Mission: Providing financial solutions for every stage of life.
State of the Credit Union
A letter from our CEO, John Hirabayashi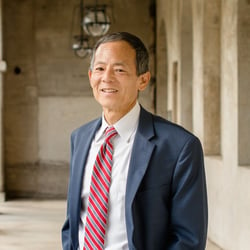 Dear Valued Member,
From financial planning to taking care of your health, success in meeting life's challenges starts with being prepared.
We Floridians know this better than many, especially at this time of year. I'm talking about hurricane season, of course, and the preparedness that helps keep us safe — both physically and financially. Mother Nature's potential to overturn lives was driven home once again by Hurricane Ida at the end of August, and here at Community First we join all Americans in extending our best wishes and offering assistance, as we are able, to people in impacted communities.
With every storm, we are reminded of the importance of having an up-to-date survival and recovery plan. You may not think of your credit union as a key element of hurricane preparedness, but we do at Community First, because time and again we have witnessed how financial preparations can mitigate a disaster's impact and help in recovery.
Most of us know the drill for preparing ourselves and our property in the face of a hurricane or tropical storm threat. We know to have an evacuation plan, a disaster supplies kit and a plan for securing our homes and valuables.
I encourage you to think of your financial preparedness in the same way — a checklist of items and actions that can help you be "money ready" for the worst that a hurricane can bring. Having a savings account earmarked for emergencies is a great place to start, but you should also have some cash readily available to ensure you can pay for necessities should ATMs be out of service. Access to cash has been a major issue in hard-hit areas during previous natural disasters.
Many other aspects of financial preparedness can make a big difference in how well you weather a hurricane's financial impacts. For example, you might consider designating a credit card just for emergencies to ensure you have adequate available credit as well as documentation of all your disaster-related expenses. Community First can help you find the right product for your needs, whether it's an actual credit card or a personal or home equity line of credit. We also recommend that you look into our options for electronic services, such as direct deposit and automatic bill pay, to protect against potential cash flow problems should mail service or in-person transactions become unavailable. For specifics on these recommendations and other practical pointers, check out the complete list on our website under Resources > Hurricane Preparedness.
This year, we also need to think about another ongoing threat — COVID-19. As much as the potential for COVID exposure is on our minds these days, imagine being packed into an emergency shelter or even a crowded hotel in the midst of a pandemic. It's a troubling thought, but one that we can address by taking precautions. Getting the COVID-19 vaccine is by far the best way to greatly lower the risk of contracting the virus, and, even after getting vaccinated, wearing a mask and maintaining social distancing when possible provides another layer of protection. For more recommendations, visit CDC.gov and search for "hurricane preparedness."
Although being prepared can go a long way to help avoid the worst impacts of a hurricane, recovering from a powerful storm can still be daunting. Because Community First exists to serve and support our members, you can count on us to help in whatever way we can. In the past, we have provided loan payment extensions, reduced or eliminated loan fees, provided mortgage loan forbearance and offered disaster recovery loans with reduced interest rates. Every situation is different, and we evaluate each individual member's needs accordingly.
Here's hoping that Mother Nature graces the First Coast with a relatively quiet hurricane season this year, but no matter which way the wind blows, we want you to know that Community First is here to provide the help you need to be prepared. ■
Hurricane Preparedness
In recent years, tropical storm events that hit land are stronger and taking longer to dissipate than they did in the past.
In addition to preparing an evacuation plan and putting together an emergency kit, you need to get your financial house in order. Don't wait until a hurricane warning is in effect.
The financial impact of a hurricane can be devastating if you are not prepared but we've got a few tips to help you this season.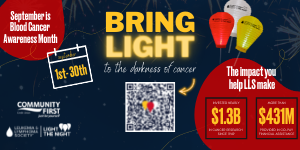 Light the Night
Join us in bringing light to the darkness of cancer! We are forming a fundraising walk team for The Leukemia & Lymphoma Society's (LLS) Light The Night.
Register today to join our team or make a donation and help fund cancer cures! You can donate between September 1st-30th via the link below, at one of our branch locations, or by giving us a call.
In 2019, LLS helped advance 12 of 14 approved blood cancer therapies.
Light The Night raises critical funds to support these advances and to provide support & advocacy for patients.
moveUP Turns 5!
It's our 5 year moveUP anniversary and we want to celebrate with YOU!
Join us this month as we share Financial Tips every Tuesday on our social stories! Plus, keep an eye out this month for a special Facebook Live event and a social contest giveaway!
Follow us on Facebook to celebrate with us!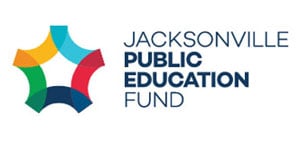 Classroom Grants
The Jacksonville Public Education Fund and the Community First Cares Foundation have launched a new and expanded classroom grant program to provide $50,000 in grants to support critical work for students in the 2020-2021 school year.
Learn more and support a local classroom project today.
Did we recently help save you money? Did our Mortgage Champions help you finance your dream home? Did you get a sweet new ride with one of our auto loans? We'd love to hear YOUR stories. Share your feedback and get featured on our social media pages ■
*Up to 100% financing of purchase price at or below $250,000. Maximum loan amount is $250,000. Closing costs are paid by the borrower. No Private Mortgage Insurance required. Other exclusions and restrictions apply. All mortgage loans subject to credit approval.