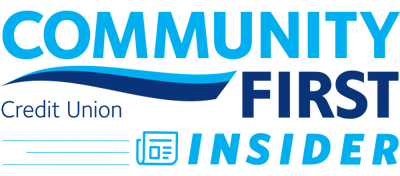 since 1935 | #justbeyourself
Volume 4 | Issue 11 | November 2021
Our Mission: Providing financial solutions for every stage of life.
State of the Credit Union
A letter from our CEO, John Hirabayashi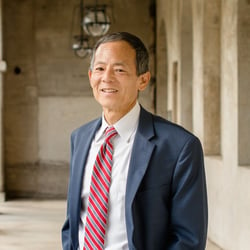 Dear Valued Member,
If I were to pick a national holiday that best reflects the spirit of Community First Credit Union, it would have to be Thanksgiving Day. I know I speak for everyone on our team when I express my gratitude for the trust you place in us every time you use our products or services. That trust is evident when you choose us for major financial moves, like taking out a mortgage or planning for retirement, but it's perhaps best reflected in the day-to-day transactions that happen when you make us your primary financial institution. Much like the bonds of a close-knit family, the strength our relationship with you is in the details.
In many ways, our Credit Union is indeed a family. You're more than customers — you're members — and every one of you contributes to the success of our organization. You help us succeed by banking with us, of course, but equally important is the feedback you provide. Your feedback comes to us through the ideas, suggestions and, yes, constructive criticism you pass along to our frontline employees, as well as through your responses to our quarterly member service surveys.
Our next quarterly survey is coming out this month, so please remember that your honest feedback is like gold to us. Our process improvement team and Member Experience Committee use it to identify opportunities and set priorities for the year ahead — priorities geared specifically to our members and the Jacksonville community. Our local focus dates back more than 85 years, and it's what makes us different than most other financial providers in the area. Our employees live and work in the Jacksonville region, and we're one of the longest continuously operating financial institutions headquartered in downtown Jacksonville.
Another way we look out for the Community First family is by passing along precautionary advice at times when we might be prone to let down our guard. The holiday season is one of those times, as we pull out our debit and credit cards and dive into our shopping lists. In observance of National Fraud Prevention Month, our Fraud Prevention Team has put together some tips to help our members protect themselves during this busy time of year when fraudsters are especially active. You can read the team's full list of tips in the article that's part of this month's newsletter, but I want to call special attention to a few key points.
First, keep a close eye on your credit and debit cards. Watch out for card scanners that look like they might have been tampered with or have a "skimming" device placed over the actual scanner. In restaurants, be aware of where your card is, and check your recent card activity for unauthorized transactions if your card is ever out of your sight.
Second, when shopping online, stick with trusted retailers and look for the closed "lock" at the beginning of the site's URL, which is a security indicator. Also, be suspicious of pop-up ads on shopping sites as well as "great deals" that arrive unsolicited through emails and texts. Again, you should keep a close watch on recent transactions and credit card statements and immediately report suspicious charges.
Third, know that Community First is also doing its best to protect you from fraud. One of the ways we do this is with our automated fraud alert system that enables you to receive notification by text, email, or voice call when we see a suspicious transaction. You don't have to sign up for the service, but you should make sure your mobile phone number and email address are up to date in our online/mobile banking system. Also, be aware that we will never call and ask you for your full account number or debit card PIN. If someone does ask for that information, it's almost certainly an attempt to gain illegal access to your account.
Thanksgiving season is a great time to reflect on how much we value our family and friends, and, for all of us at Community First, to appreciate the many ways our members contribute to our success. Please accept our best wishes for a happy Thanksgiving and safe shopping as we head into the December holidays. ■
Shop Safe During the Holidays
'Tis the Season for holiday shopping, eggnog, and....fraud? Unfortunately this time of year is when fraudsters are especially active. Read our fraud team's tips for safe shopping during the holidays.
Plus, join our Director of Fraud Prevention for a Facebook Live for even more fraud prevention tips for this year.
Follow us on Facebook to be notified when we go live on November 18th at 1 p.m.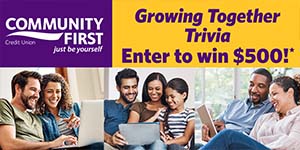 Member Appreciation Marathon
We are still running and celebrating YOU, our amazing members.
Next up, we have Trivia!
Play the Community First Trivia and enter to win $500.** Plus, get an extra entry by answering all the questions correctly! Good luck!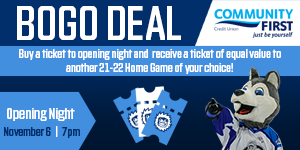 Icemen Opening Night
With this exclusive ticket offer for Community First Members, get a special deal to attend the
Jacksonville Icemen
opening night on Saturday, November 6!
Purchase a ticket for Opening Night below, and receive a future 2021-22 Home game (excludes All-Star Game) ticket of the same value for free!
Get your tickets before they sell out!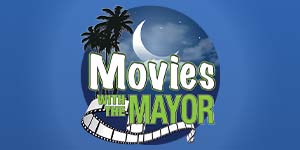 Movies with the Mayor
We'd like to invite you to join us Friday, Nov. 19th in Jarboe Park for another 'Movies with the Mayor'!
Grab some tasty dinner from the food trucks beginning at 5 p.m. and settle in for E.T. beginning at 6 p.m.
Did we recently help save you money? Did our Mortgage Champions help you finance your dream home? Did you get a sweet new ride with one of our auto loans? We'd love to hear YOUR stories. Share your feedback and get featured on our social media pages ■
*Up to 100% financing of purchase price at or below $250,000. Maximum loan amount is $250,000. Closing costs are paid by the borrower. No Private Mortgage Insurance required. Other exclusions and restrictions apply. All mortgage loans subject to credit approval.