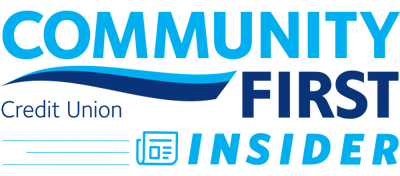 since 1935 | #justbeyourself
Volume 4 | Issue 12 | December 2021
Our Mission: Providing financial solutions for every stage of life.
State of the Credit Union
A letter from our CEO, John Hirabayashi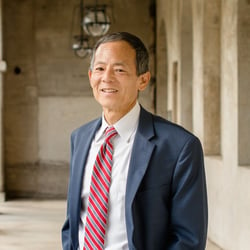 Dear Valued Member,
A strong community is made up of many things — caring neighbors, working families, and thriving local businesses, to name a few. Community First Credit Union is proud to be part of a community that exemplifies all of these things and to have a role in contributing to each of them.
Most of our members know about the financial services we provide to individuals and families, but did you know we also have a rapidly growing commercial banking program? Commercial banking simply refers to the specialized services that help companies efficiently conduct their daily financial operations and the products that support their longer-term business strategies.
Over the past five years, Community First has invested in people, products and technology to expand our business with companies both large and small. We offer a wide range of credit products — from credit cards and lines of credit to auto and green energy loans — that help businesses expand, renovate, or purchase equipment. Commercial real estate loans are the largest segment of our commercial loan portfolio. We finance owner-occupied real estate, such as doctors' offices and restaurants, as well as investor-owned real estate, such as retail shopping centers and other types of income-generating property.
We also offer comprehensive services to help businesses manage their money, from checking and savings accounts to a full suite of digital services that include online and mobile banking. For larger businesses, we offer cash management services to help them manage their money more efficiently. These include transactional services such as ACH payments and collections; remote deposit capture; positive pay; and wire transfers.
By combining these commercial offerings with the same attentive, personalized service we provide our individual members, we have developed a commercial banking business that is fulfilling an important need in our North Florida communities. The strength of our business banking program can be seen in the growth we have experienced since 2018, with commercial deposits increasing from $69 million to $181 million, and commercial loans increasing from $86 million to $116 million. In 2021, we are on track to generate almost $50 million in new loans to businesses, a new record for our credit union.
These numbers are exciting, but their impact on our community — through job creation, economic growth, and enhanced quality of life — is best illustrated by the stories of businesses that have chosen Community First as their financial services partner. I'd like to introduce you to two of them:
Dennis Chan realized a dream when he opened his Blue Bamboo restaurant on the Southside of Jacksonville 10 years ago. As his restaurant's popularity grew, Dennis realized he would need a new facility to continue expanding his success, so he came to Community First for a loan to construct and relocate to a new restaurant at 10110 San Jose Blvd. in Mandarin. Today, the new Blue Bamboo restaurant has opened its doors with more seating and 37 employees, a 300 percent increase from the previous operation. Check out this video we created to highlight Dennis' project, and if you enjoy excellent Cantonese comfort food, be sure to give Blue Bamboo a try!
Across town at Jacksonville Beach, another Community First-financed project has taken up residence on the southeast corner of Beach Boulevard and Third Street. We worked with Shivam Properties II, LLC to fund the construction of the company's newest hotel project, Element by Westin. The first Element hotel property in North Florida and one of only four in Florida, the new hotel has 80 extended-stay units, which are designed to give beach tourists additional family friendly options and to cater to individuals visiting the nearby Mayo Clinic. At the time of its construction, the hotel was the largest commercial lending project in Community First's history, and we're proud of the positive impact it has had on the area. The Element Jacksonville Beach employs 20 full-time and 5 part-time people and its guests patronize many other local businesses, adding to the area's economic vitality. Check out the hotel's webpage, and maybe even check-in for a visit.
These examples and the growth of our commercial banking services demonstrate what is truly different about Community First Credit Union. We're able to offer businesses and individuals high-quality financial solutions with an attentiveness to our community's needs that only a member-driven organization can deliver.
Thanks to your support throughout 2021, we have been able to continue growing our credit union and offering the services that make our communities stronger and help our members achieve their financial goals.
On behalf of the entire Community First team, I wish you a safe and happy holiday season and look forward to serving you in the year ahead. ■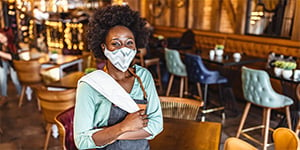 Small Business Spotlight
Here at Community First we know small and local businesses are what make our community wonderful. Join us as we visit some of our member's businesses to tell their story.
Want your business to be featured in our next video? Send us an email to
social@c1cufl.org
with your contact and business information.
*Must be a business member of Community First to be featured.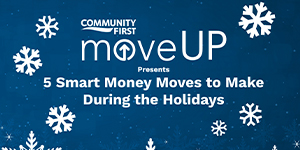 Smart Money Moves for the Holidays
Join our moveUP Financial Wellness Advisors for a very special Facebook live on Friday, December 3rd at 3 pm. They will be discussing everything from holiday budgets, to safe shopping, to maximizing your rewards!
Bring any questions you may have and don't forget to follow us on Facebook to be notified when we are live!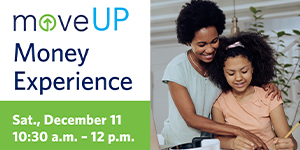 moveUP Money Experience
We're inviting families to join us Saturday, December 11th from 10:30 A.M. - 12:00 P.M. for our virtual moveUP Money Experience!
This is a free virtual event, where teens (ages 13-17) will learn the value of money management by playing our moveUP Money Experience budgeting game. Our moveUP mentors will walk them through managing money in the real world, in a fun & interactive way!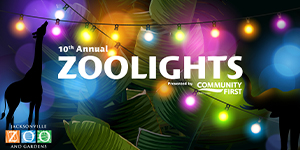 ZOOLights
Community First is proud to present the 10th annual ZOOLights!
This fantastical holiday light experience will transform Jacksonville Zoo and Gardens, and take guests on a magical journey of the artistry of lights, sound, and nature itself.
Did we recently help save you money? Did our Mortgage Champions help you finance your dream home? Did you get a sweet new ride with one of our auto loans? We'd love to hear YOUR stories. Share your feedback and get featured on our social media pages ■
*Up to 100% financing of purchase price at or below $250,000. Maximum loan amount is $250,000. Closing costs are paid by the borrower. No Private Mortgage Insurance required. Other exclusions and restrictions apply. All mortgage loans subject to credit approval.