since 1935 | #justbeyourself
Volume 5 | Issue 5 | May 2022
Our Mission: Providing financial solutions for every stage of life.
State of the Credit Union
A letter from our CEO, John Hirabayashi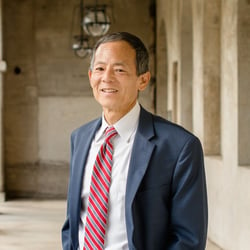 Dear Valued Member,
Since Community First introduced the Just Be Yourself campaign a year ago, we've learned a lot about what being yourself means to you. More than just a slogan, the message touched on something deeper within our members and strengthened the bond of trust and respect that has always been at the heart of our credit union.
We learned how much you value being treated like an individual — a real person with aspirations and challenges that are all your own. We learned that you appreciate being able to talk honestly about your dreams — and your struggles. And, perhaps most importantly, we learned how we can enhance our relationship with you by continuing to offer products and services that align with what you really want and need — not necessarily what banking industry pundits say is the next big thing.
In other words, the past year has reinforced our core belief that we're at our best when we're helping you be your best. Was it a coincidence that last year, when we focused on helping you bank your way, was one of the most successful years in the history of our credit union? I don't think so. And that's why we're going to continue strengthening Just Be Yourself as the cornerstone of our service culture.
We're building on Just Be Yourself with a follow-up initiative called Own It, which encourages our members to take charge of their dreams with the confidence of knowing that their financial services provider is ready to support them with real solutions to real-world challenges. Own It celebrates our members' aspirations and the pride they take in being themselves.
In the months ahead, you'll be seeing the Own It message in our advertising, but the part you won't see — at least not overtly — is the behind-the-scenes culture-building that's taking place across the Community First team. We're encouraging our employees to be themselves so they can do a better job of understanding and appreciating the individuality of every member they serve.
We've lined up some fun activities, such as inviting employees to submit photos of themselves with the things they're most proud of owning or saving toward. It might be a first home, a vintage car or even a hobby collection. For example, one of the first submissions came from Tiffany French, our social media strategist, who told us she's proud of her board game collection because, "It's super fun to see all the different types of artwork, plus have our game night with friends and family!"
Our internal culture of getting to know people as individuals shows itself in the personalized attention we give to you — our members — as well as the products and services we offer. An important part of our culture is listening to what you tell us and developing solutions that enable you to bank your way, whether that's a free checking account, early paycheck deposit, debt consolidation or free digital tools to fit your on-the-go lifestyle.
If you haven't visited our website in a while, I encourage you to take a look around at the variety of services and features we offer, many of which we've added or enhanced in just the past year. Plus, don't forget to give us your suggestions for how we can better meet your needs. Because once you've decided what it means to Just Be Yourself, we want to help you Own It! ■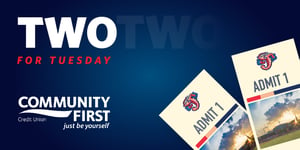 Jumbo Shrimp Two for Tuesday
Did you know that your Community First membership comes with special Jumbo Shrimp perks?
Our Two for Tuesday deal gets you BOGO tickets at the box office. Just use your Community First credit or debit card on eligible Tuesday home games to score the deal!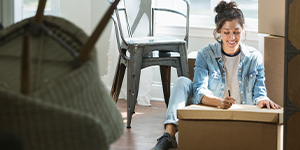 Homeownership Workshop Event
Navigating the home buying process can be intimidating, but it doesn't have to be!
Join Community First and Florida Blue for our free Homeownership Workshop event where one of our Community First Home Buying experts will help you understand the home buying process.
Money Talks
We understand most of us cringe when we hear the phrase "credit card debt", but did you know that not all debt is bad debt? As long as you are responsible with your spending, a credit card can be a great way to build credit.
Join our hosts Adrian and Archelle on our next episode of Money Talks as they chat about credit card debt.
Did we recently help save you money? Did our Mortgage Champions help you finance your dream home? Did you get a sweet new ride with one of our auto loans? We'd love to hear YOUR stories. Share your feedback and get featured on our social media pages ■
*Up to 100% financing of purchase price at or below $250,000. Maximum loan amount is $250,000. Closing costs are paid by the borrower. No Private Mortgage Insurance required. Other exclusions and restrictions apply. All mortgage loans subject to credit approval.