since 1935 | #justbeyourself
Volume 5 | Issue 6 | June 2022
Our Mission: Providing financial solutions for every stage of life.
State of the Credit Union
A letter from our CEO, John Hirabayashi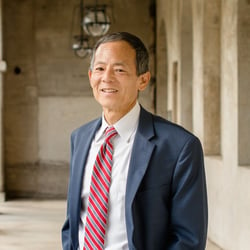 Dear Valued Member,
Community First will be celebrating the Juneteenth holiday for the first time this month, and the timing couldn't be better. With troubling events dominating the news and inflation weighing on our wallets, Juneteenth reminds us of how much we have overcome as Americans throughout our history and that our diversity is our strength.
Juneteenth, which we will observe on Monday, June 20, actually falls on June 19, the day in 1865 when a federal order ending slavery was read in Galveston, Texas, completing the emancipation of enslaved black Americans across the nation. Like so many of our national holidays, Juneteenth strengthens our sense of community and reinforces the democratic ideal that together we can persevere through difficult challenges.
Economic opportunity and financial security are an essential part of the American dream — the part that we embrace at Community First as our contribution to supporting our members in pursuit of their individual goals. We take this responsibility very seriously, and we're implementing several measures to help ease the impact of inflation and rising interest rates.
Foremost, for a limited time we have dropped the rate on our 30-year fixed mortgage to below 5%, which as of this writing was the lowest in our market area. In addition, since we know it can take a long time to find a new home to buy — or to build one — we are rolling out a program that allows you to lock-in your mortgage rate for up to a year.
We're also working to help members who are looking for their first home. We're offering first-time homebuyers an adjustable rate on loans up to $350,000 and helping them lower monthly payments by eliminating the requirement for private mortgage insurance, even if they borrow up to 100% of the purchase price. This program has been extremely popular with our members, accounting for about a third of the home purchases that we finance. Plus, buyers who qualify can get down payment assistance of up to $5,000, which can also be used for things like home improvements and other costs associated with settling into a new home.
Making home improvements is another area where members have been experiencing challenges. As supply chain issues have delayed many projects, some of you may have missed out on the historically low rates for mortgage refinancing as way to generate cash for home improvements. However, you can still take advantage of the low-rate environment with a home equity loan or line of credit. These programs can keep your borrowing costs low so you can get your project done. Also keep in mind that you can use a home equity loan or line of credit to consolidate multiple high-interest-rate debts into a single loan with a lower rate. Many members find this helpful for lowering recurring monthly expenses, and I encourage you to ask one of our specialists about how it might be able to help you.
Car payments are another area in which we can help. Through the end of June, we're offering $250 if you refinance a car loan of $25,000 or more with Community First, and you have 90 days until your first payment is due, which can free up cash to help you handle the current pressures of inflation.
Although it's always difficult to predict short-term economic direction, we know that over time the current inflationary period will ease and financial markets will level out. In the meantime, as a community of credit union members, we are helping each other through the current challenges. Because Community First works for you, we're able to offer some of the region's best interest rates and program features. Ask one of our employees about the programs that might help you, and don't forget to take some time this month to celebrate the diversity that continues to make our community and our nation a great place to live. ■
Spring Cleaning Your Finances
It's time for spring cleaning! Your budget, that is. Between regular bills and all the new streaming services, it's easy for those payments to stack up high.
Join our Money Talks team for tips to clean up your finances and get set for some summer fun.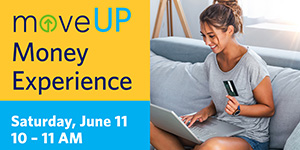 moveUP Money Experience
Join us for a free virtual event where teens (ages 13-17) will have the chance learn valuable money management skills in this exciting and immersive experience!
Not only that, but your teen will also get a free $10 gift card* of their choice just for attending! We encourage teens and their parents to attend this free event together.
Hurricane Preparedness
Just like summer, hurricane season is back. Over the past several years we have seen a rise in the number of named storms and the damage they have caused.
Which is why being financially ready in case a storm strikes is crucial to protecting not only your property but also your future.
How to Budget Monthly Household Expenses
Creating a budget you can stick to can be a daunting task at first, but once you have established a good balance of your needs, wants, and savings, you will be on your way to a more financially secure future.
This guide will help you learn basic budgeting rules that can help you get started building your monthly budget.
Did we recently help save you money? Did our Mortgage Champions help you finance your dream home? Did you get a sweet new ride with one of our auto loans? We'd love to hear YOUR stories. Share your feedback and get featured on our social media pages ■
*Up to 100% financing of purchase price at or below $250,000. Maximum loan amount is $250,000. Closing costs are paid by the borrower. No Private Mortgage Insurance required. Other exclusions and restrictions apply. All mortgage loans subject to credit approval.