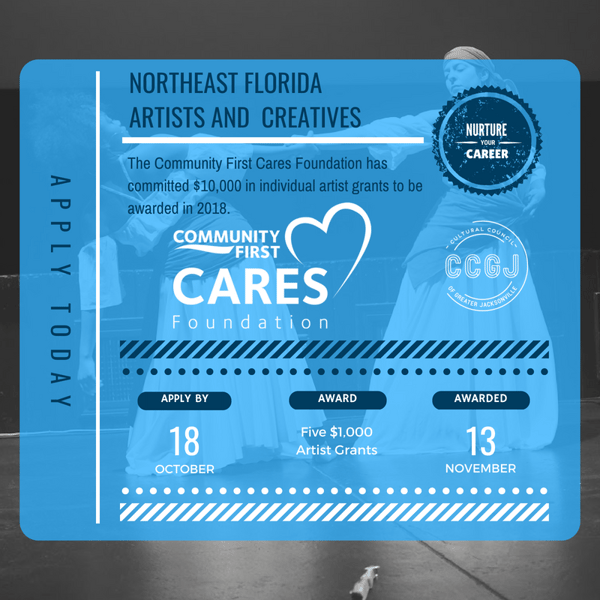 Community First Cares Foundation partners with the Cultural Council
of Greater Jacksonville to award $10,000 in individual artist grants
The Community First Cares Foundation, in collaboration with the Cultural Council of Greater Jacksonville, hosted the 2nd annual Entrepreneur Symposium for Creatives: Every Artist is a Small Business on Saturday, August 18 at the
Ritz Theater and Museum in Jacksonville's historic LaVilla neighborhood. At the event, the Community First Cares Foundation awarded five $1,000 individual grants to local artists in the community. Read more about the winners in our press release.
A second round of grants is now open for applications, with five recipients receiving awards during November's Every Single Artist Lounge scheduled for Tuesday, November 13 at the Museum of Science and History. The application window for the second round of grants is open now through October 18. ■
Sing Out Loud Festival
We are so proud to partner with the Sing Out Loud Festival again this year as presenting sponsor! From September 1-23, you can enjoy some amazing music in St. Augustine.
Stop by our St. Johns branch, located at 3581 N. Ponce De Leon Blvd. on Sept. 14 and enter to win two tickets to the sold out Betty Griffin Center Concert featuring Jason Isbell and The 400 Unit, The Decemberists, and Lucero at the St. Augustine Amphitheatre on Saturday, September 22! While you're there, enjoy live music from The Willowwacks and complimentary refreshments.

for the full lineup, schedule, venues, ticket info, and more.

Florida Blue | moveUP Financial Wellness Series:
Three Strategies to Get out of Debt
Join us as we continue our VIP interactive seminars focused on helping you moveUP and empower yourself. During this exciting, fast-paced, complimentary seminar, we'll help you learn three effective strategies for paying off your debt and putting more money in your pocket.
As part of our moveUP Financial Wellness Program, we've partnered with Florida Blue to host these informative sessions at their conveniently located community centers. And we'll even provide a free meal at every seminar. Plus, everyone who attends gets a special moveUP gift on us! ■
Learn how to get out of debt and stay out of debt
Learn 3 effective options to help you pay off your debt faster
Take away tips and tricks to accelerate your financial plans and save money
Get a complimentary guide and free consultation
Enjoy a complimentary meal
Receive a special moveUP gift as a thank you for attending
And much more!
RSVP for one of our September events:
Visit our helpful moveUP Modules
to learn more about how to pay off debt, including credit cards.

moveUP

Minute
Best practices for dealing with your credit card bills
Think before you buy.
Pay more than the minimum balance due.
Make sure you can pay your balance fully before the end of the promotional period.
Our staff has the tools and resources to help you get out of debt so you can live a happier life! ■

Online & Mobile Banking Updates
In late August, we made some enhancements to the look and feel of our online and mobile banking platforms. Members will now experience bigger, bolder look and feel, a new high contrast option available for better accessibility, improved access to Bill Pay, and other minor improvements for ease of use. ■
Check out our new look!

Don't have an account? No problem.
Enroll today and bank where you want, when you want.