Community First Cares Foundation
donates $20k to new African Forest at the Jacksonville Zoo and Gardens
The Community First Cares Foundation, with the help of our members and employees, donated $20,000 to the Jacksonville Zoo and Gardens' African Forest, the newly designed, wellness-inspired home of the great apes, monkeys, and lemurs. The Jacksonville Zoo and Gardens closed the former Great Ape Loop in July of 2017 to begin the process of completely transforming the dated exhibit into a world-class home for primates.
The Zoo celebrated the opening of the African Forest and the return of the gorillas, bonobos, lemurs, mandrills, and colobus monkeys last month. A 50-foot tall replica Kapok tree is the heart of the new habitat, where the animals are encouraged to climb, explore, and problem-solve in unique and innovative ways. Meandering through the African Forest is an elevated trail system that will allow the different animals to access the Kapok tree. ■

Fall Car Sale Event | Oct. 13
Join us at our exclusive Fall Car Sale Event! Choose from more than 300 new and used trucks, cars, SUVs, and luxury vehicles, get special low rates, experience no-haggle prices and a fast and easy approval process. Get pre-approved before the sale by calling 904.204.3326, visiting our website, or stopping by a branch near you.
Details:
Time:
9:00 a.m. - 5:00 p.m.
Venue:
Community First Headquarters
637 N. Lee Street,
Jacksonville, FL 32204
Icemen Season Opener | Oct. 13

As the season sponsor of the Jacksonville Icemen, we are excited so say that hockey is back! Join us on Opening Night as we watch the Icemen take on the South Carolina Stingrays on October 13!
Details:
Time:
7:00 p.m. - 10:30 p.m.
Venue:
Jacksonville Veterans Memorial Arena
300 A. Philip Randolph Blvd., Jacksonville, FL 32202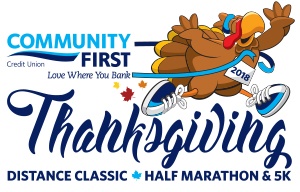 Community First Thanksgiving Distance Classic | Nov. 22
It's time to start training for the 2nd Annual Community First Thanksgiving Distance Classic! Choose your race: we have half marathon, 5K, and 1-mile Turkey Trot course options available. Be sure to register before the price increases on November 1!
As an added bonus, all Community First members are eligible for a $5.00 discount! Simply enter discount code communityfirst at checkout!

Florida Blue | moveUP Financial Wellness Series:
The Basics of Retirement and Investing
*Investments offered through CUSO Financial Services, L.P., CFS Member FINRA/SIPC
Join us as we continue our VIP interactive seminars focused on helping you moveUP and empower yourself. During this exciting, fast-paced complimentary seminar, we'll help you determine what retirement means to you, when you could plan to retire, and how long your retirement will last.
As part of our moveUP Financial Wellness Program, we've partnered with Florida Blue to host these fun seminars at their conveniently located community centers. The best part is, we'll provide a meal at every seminar, and everyone who attends gets a special moveUP gift on us! ■
Learn the pros and cons of early and delayed retirement
Understand how retirement income impacts your plan and how much you'll need
Learn the different options for your personal savings and investments
Enjoy a complimentary meal
Receive a special moveUP gift as a thank you for attending
And much more!
RSVP for one of our October events:
*Non-deposit investment products and services are offered through CUSO Financial Services, L.P. ("CFS"), a registered broker-dealer (Member FINRA/SIPC) and SEC Registered Investment Advisor. Products offered through CFS: are not NCUA/NCUSIF or otherwise federally insured, are not guarantees or obligations of the credit union, and may involve investment risk including possible loss of principal. Investment Representatives are registered through CFS. The Credit Union has contracted with CFS to make non-deposit investment products and services available to credit union members.
Visit our helpful moveUP Modules
to learn more about planning and saving, including retirement.

Our staff has the tools and resources to help you get what you want from your finances so you can live a happier life! Contact us today if you'd like to set up an appointment to discuss your financial situation with a Community First representative. ■


Our New Personal Financial Management Tool
Do you ever wish you could track your spending online? How about categorize your transactions so you can see just how much money you're spending on things like food, gas, or entertainment? Now you can! Our Online Banking platform now supports a Personal Financial Management (PFM) tool. Learn more about this tool, as well as the answers to frequently asked questions, below.

Our budget and finances feature allows you to track your spending with a fully interactive, real-time updating dashboard for all of your shares and categorizes transactions for easy budget creation. You can also set spending targets so you can track variable expenses, track monthly cash flow, establish savings goals, determine net worth, and much more. ■

Introducing Debit Card Fraud Text Alerts!
You will soon have the ability to receive debit card fraud alerts by text! In the past, when suspicious transactions occurred (such as purchases in unexpected places), we'd let you know with a phone call. If you choose to enroll, you'll be notified by text. You'll also be able to respond to let us know if a transaction is legitimate or fraudulent. If you don't want to receive text alerts, we will still call if suspicious activity occurs.

Enrolling is easy! If we have a valid mobile number on file for you, you may have already received or you will receive a text from us between September 23 and October 12 to opt-in. ■